PUNE: The
stringent restrictions
for travellers from Maharashtra imposed by the Bihar government are turning out to be a big hurdle for
Mumbai resident Pooja Singh
, who desperately wants to fly to Patna to help her parents who have tested Covid-19 positive there.
"The Bihar government's regulations include a mandatory 10-day home quarantine even if one has an RT-PCR negative report. How am I supposed to help my parents if I am locked up at home for 10 days? My brother, who is in Pune, is trying to find if there's any exemption in case of emergency travel," Sinha told TOI.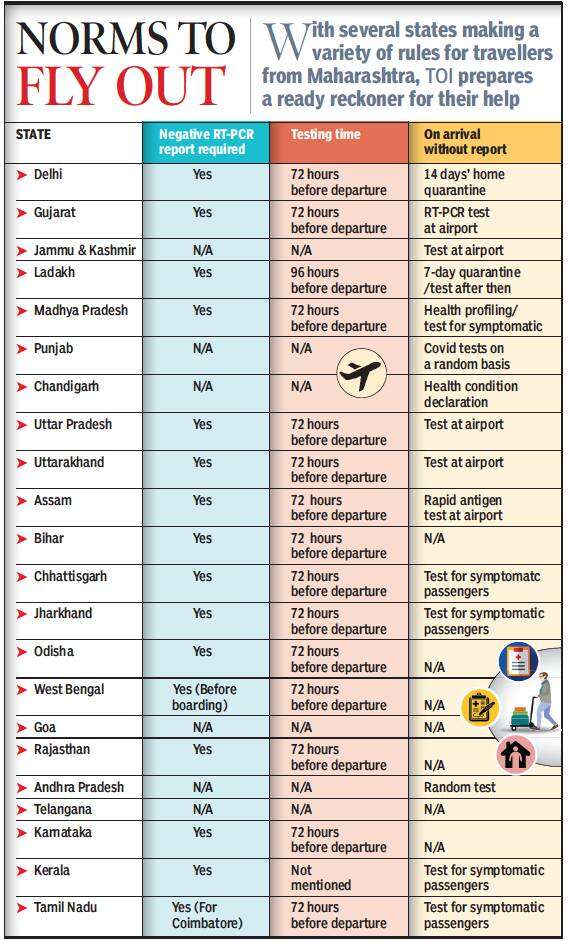 Stringent and constantly changing travel regulations imposed by several states (see graphic) on passengers from Maharashtra have forced many flyers from Pune to either cancel their trips or opt for other ways to reach their homes.
Nishikant Singh, a resident of Hajipur (near Patna) and currently staying in Wakad, said, "Why should I be in home quarantine when I have an RT-PCR negative report? I had a family function to attend later this month but had to cancel the trip due to this."
A WhatsApp message sent to Patna airport director BCH Negi about possible exemptions from home quarantine in case of emergency travel remained unanswered till the time of going to the press.
The West Bengal government has told airlines to disallow boarding of any passenger from Maharashtra not having an RT-PCR negative report. Samudra Majumdar, a working professional living in Baner, said, "Getting an RT-PCR negative report in time has become a major struggle in Pune. So I took a flight to Delhi, got my report within 24 hours and then travelled to Kolkata. It cost me an additional Rs5,000. But I avoided hassles."
Pune resident Amol Gole told TOI, "I travelled to Kolkata on Sunday with a Covid negative report. I was not asked for the report till the time of boarding. I returned two days later, with the flight stopping over in Bhubaneswar. Nobody asked for the negative report till I departed, landed in Pune and checked out of the gate." .
Animesh Poddar, who was to travel to Delhi on April 18 and has spent Rs13,000 on the tickets, said, "I tried to get reports for my family and myself in Pune. But all labs said the waiting time for the report is at least six days. We don't want to be in institutional quarantine and decided to cancel the trip."
No report check at railway station
Manoj Jhawar, public relations officer of the Pune rail division, said the passengers were not checked for the RT-PCR negative reports. "We are not stopping anyone from travelling if they have a confirmed ticket. The respective states will check the reports," he said.