SALT LAKE CITY — The snow's not over yet for many places around Utah Friday and heading into the weekend.
The National Weather Service issued a series of winter storm warnings across southwest Utah and also northeast Utah on Friday afternoon; in addition, it issued a winter storm advisory for parts of central Utah.
🚨🌨️ Some areas of southwest Utah have been upgraded to a Winter Storm Warning. A band of heavy snow has been impacting I-15 north of Beaver, including a closure as of this writing. Snow will continue along the I-15 corridor in this area next few hours, before shifting west #utwxpic.twitter.com/lW44Ld2Pvv

— NWS Salt Lake City (@NWSSaltLakeCity) March 12, 2021
The first warning was issued for areas of southwest Utah from immediately after it was issued late Friday afternoon through Saturday. It includes communities like Beaver, Bryce Canyon, Cedar City and Milford. The area was previously listed as in a "winter weather advisory."
In addition, the agency's offices in Salt Lake City and Grand Junction, Colorado, issued winter storm warnings for areas of the Wasatch backcountry and Daggett County that will go into effect Saturday morning. Both will remain in place through late Sunday afternoon. The warning includes communities like Dutch John and Manila, as well as the Mirror Lake Highway and the western Uintas. The Wasatch backcountry location was previously listed as being in a "winter storm watch."
Meanwhile, the agency also issued a wind advisory for locations of the northern Wasatch Front, as well as northern Utah and Tooele for Friday evening through Saturday morning.
Snow in southwest, central Utah
A storm focused primarily in the southwest region began producing snow in Washington and Iron counties Friday morning. It got progressively worse as the day went on, prompting the winter storm warning. The snow likely factored in a multi-vehicle pileup that closed a section of I-15 near Beaver on Friday afternoon.
KSL meteorologist Kristen Van Dyke said that the storm was "slow-moving," which is why snow will remain in the Central and Southern mountains areas into Saturday.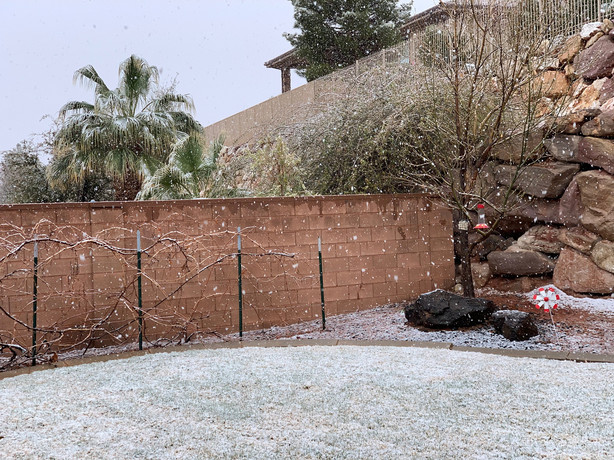 The warning issued by the weather service shortly after 4:15 p.m. Friday stated that it's expected to provide an additional 2 to 8 inches of snow along the I-15 corridor around Beaver, Cedar City and Milford from the snow that's already accumulated.
❄️The Beaver County Emergency Manager reports 6″ of snow in Beaver with the band of snow this afternoon. The Beaver Airport weather station suggests this has mostly fallen in 3 hours! #utwx#utsnow

— NWS Salt Lake City (@NWSSaltLakeCity) March 13, 2021
It also covered locations like Bryce Canyon, Capitol Reef and Zion national parks, as well as Loa and Panguitch. Those areas were expected to receive an additional 2 to 6 inches of snow.
A previous estimate projected the highest elevations in the region could receive upwards of 10 inches of snow. No update was provided there.
Meanwhile, the weather service added a new winter weather advisory for parts of central Utah, including Cove Fort, Koosharem, Fish Lake and Scofield. The advisory stated those areas could receive 4 to 10 inches of snow between Friday afternoon and early Sunday morning.
Van Dyke said the storm was expected to reach the Wasatch Front and provide some showers. Most places by the Wasatch Front weren't expected to receive much snow from the storm. The storm is expected to provide more snow for the Wasatch backcountry instead.
More snow is on the way! If planning travel in southwestern Utah tonight, expect steady moderate snow… 3-6″ forecast for Cedar City. Sat-Sun will bring significant accumulations to the northern slope of Uinta Mountains and SW WY as well! #utwxpic.twitter.com/ddDDYVYhEA

— NWS Salt Lake City (@NWSSaltLakeCity) March 12, 2021
More winter storm warnings for northeast Utah and Wyoming
The storm is then expected to produce even heavier snow for areas of northeast Utah along with stiff winds this weekend.
The National Weather Service's warnings for the region state that it could produce 1 to 2 feet of snow with "locally higher amounts possible." It adds that wind gusts as high as 50 mph are projected with the storm. The weather service said there could be "areas of blowing snow" due to the heavy snow and high winds.
The Salt Lake City Office also issued a winter storm warning for Wyoming areas in its jurisdiction, including Evanston. The warning forecast snow totals ranging from 6 to 18 inches in the area.
Wind advisory issued for northern Wasatch Front
Snow isn't the only thing in the forecast. The National Weather Service also issued a wind advisory for a section of Utah that includes the northern Wasatch Front, northern Utah and Tooele areas from 5 p.m. Friday to 8 a.m. Saturday.
The areas with the strongest winds expected — Farmington, Parleys Canyon and Weber canyons — were some of the areas most affected by last September's windstorm but the eastern winds aren't expected to be nearly as strong Friday night into Saturday. The advisory states winds will be moving in from the east to northeast during that time, which is forecast to result in 25 to 35 mph winds with gusts up to 55 mph in some places.
Communities listed in the wind advisory include Bountiful, Brigham City, Ogden, Salt Lake City and Tooele.
"Gusty winds could blow around unsecured objects. A few power outages are possible," the advisory added. "Use extra caution when driving, especially if operating a high-profile vehicle. Secure outdoor objects."
💨 A Wind Advisory is in effect from 5 p.m. Friday into Saturday morning for gusty east/northeast winds along the Wasatch Front.

💨 The strongest winds will be near Parley's, Farmington, and Weber Canyons.

💨 Secure any loose outdoor objects! #utwxpic.twitter.com/PNiLa4EbvP

— NWS Salt Lake City (@NWSSaltLakeCity) March 12, 2021
Full forecasts for areas across Utah can be found at the KSL Weather Center.
Impact on travel
The Utah Department of Transportation issued a weather alert Thursday night for travel conditions Friday morning through noon Sunday afternoon. An updated alert Friday afternoon advised "high caution" for travel in pockets of the state. It was issued just before the pileup was reported in Beaver County.
Those areas included:
I-15 from Cedar City to areas just north of the freeways junction with I-70
Cedar City, Parowan, Beaver, as well as state Routes 14 and 143 within Iron and Garfield counties Friday afternoon into Saturday morning
State Route 11 southwest of Price
U.S. 191 near Indian Canyon Summit, northeast of Price
Roads in Daggett County, especially Saturday through Sunday morning
The National Weather Service also warned about travel in Daggett County over the weekend.
"Travel could be very difficult to impossible. Patchy blowing snow could significantly reduce visibility," the NWS alert stated.
Weather Alert Update: Snow will continue to impact portions of Utah this weekend. Valleys in southern UT including I-15 from I-70 Jct thru Cedar City will see periods of road snow tonight with Eastern UT seeing snow till SUN. More info here: https://t.co/4P1gO1U0Gg#utwx#utsnowpic.twitter.com/Ev7w0d4dZd

— UDOT Traffic (@UDOTTRAFFIC) March 12, 2021
UDOT added that "moderate caution" due to slush and snow on freeways may make travel difficult on I-15, especially in central and southwest Utah Friday afternoon into Saturday morning. I-70 throughout southeast Utah was also listed as a place where "moderate caution" was advised, as was the eastern portion of I-80 from Parleys Summit through to the Wyoming border.
Avalanche danger update
The threats of avalanches have subsided in northern Utah over the past few weeks. In fact, as of Friday morning, the danger was "low" along the Wasatch Mountains from Logan to Provo.
The threat was listed as "moderate" in the Uintas parts of the Central Mountains and "considerable" in the Abajos and Moab regions of southeast Utah.
The Utah Avalanche Center also advised Friday that wind patterns were creating problems for some parts of mountains.
"Heads up! The eastern winds are creating sensitive slabs of wind drifted snow in terrain features — such as gullies," the agency tweeted. "These will be fast running on the old firm surface, and large enough to carry a person through dangerous terrain features. Look for signs of wind drifted snow!"
Impact on snowpack
The storm is a welcomed sight for regions of the state that have had snowpack levels slowly creep back to levels in the 50% to 70% range of the normal for this time of the year. For instance, Southwestern Utah was listed at 57% of its average as of Friday morning.
Duchesne River and Price-San Rafael were the two other regions in "orange" as of Friday morning but also are regions expected to receive more of the snow from the storm this week.
The Northeastern Uintahs region is where the most snow is forecast. That was listed at 75% of its average ahead of the storm.
The statewide snowpack is about 74% of its average for March 12, according to the Natural Resources Conservation Service.
×
More stories you may be interested in