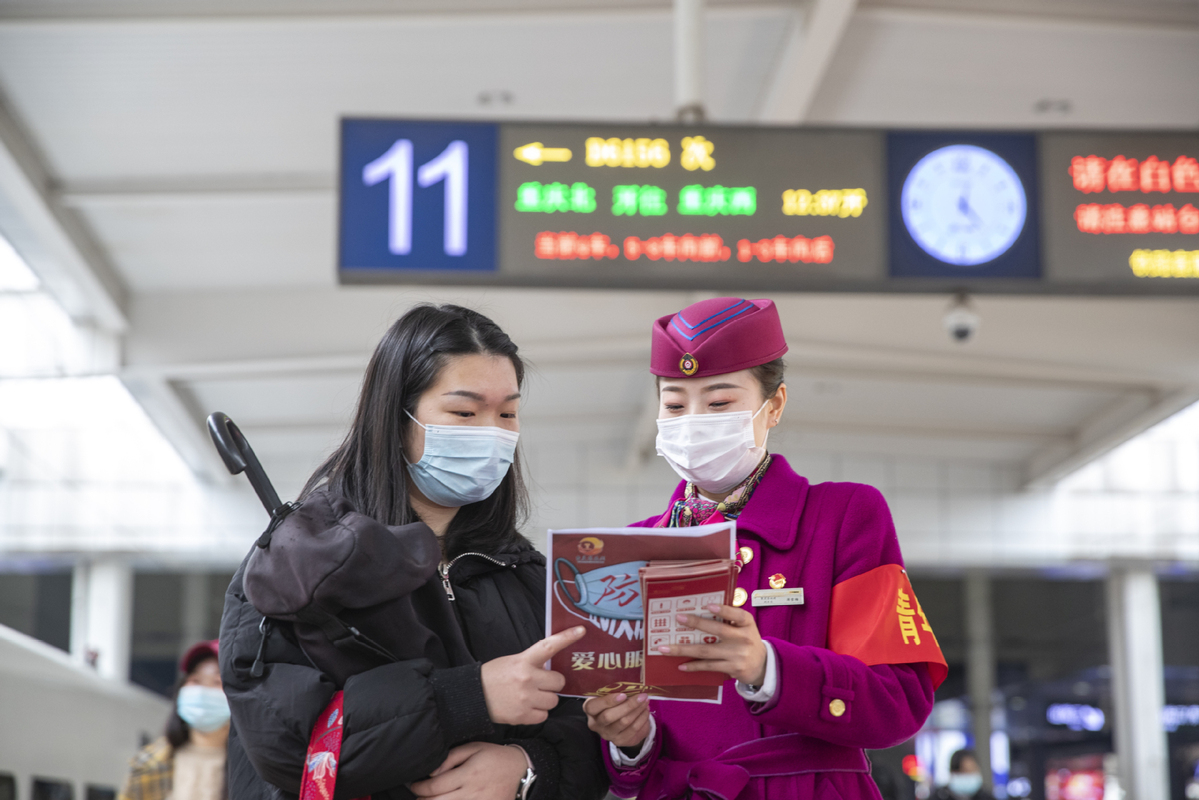 Officials stress ways to help families have enjoyable, low-risk celebration
Encouraging people to avoid unnecessary travel during the Spring Festival holiday will be conducive to China's epidemic control and prevention efforts and thus promote sustainable economic recovery, a leading official of the country's top economic planner said on Wednesday.
Zhao Chenxin, secretary-general of the National Development and Reform Commission, said the choice of many people to stay where they are currently residing to prevent the spread of the novel coronavirus will significantly reduce the movement and gathering of people and facilitate work and production resumption after the holiday.
The past year has proved that the nation and all its people will benefit from progress in containing the epidemic, Zhao said.
Celebrating the festival where they work and live is one way for people to contribute to the epidemic prevention and control efforts, he said at a news conference held by the State Council Information Office.
All residents of areas at high-risk of COVID-19 will have to stay at their current locations, while people in low-risk areas will be encouraged to avoid travel unless necessary, according to a recent notice released by the general offices of the Communist Party of China Central Committee and the State Council.
The one-week Spring Festival holiday, from Feb 11 to 17 this year, is one of the most important traditional Chinese holidays and features family reunions and the mass migration of people.
Zeng Yixin, vice-minister of the National Health Commission, said recent outbreaks in China mainly occurred in northern China as the virus can survive longer in low temperatures. There has also been a notable increase in imported COVID-19 cases, with the daily average of imported cases in January almost doubling those in November.
With large population movements and concentrations during the holiday, the risks of the virus spreading will mount, he said.
As people who travel to their hometowns for Spring Festival are required to provide their nucleic acid test result, the country is facing a rising demand for virus testing, said Zeng, adding that the country's daily testing capacity for COVID-19 has surpassed 15 million samples.
He also urged local authorities to raise their testing capacity and explore ways to lower the cost and increase the convenience for people being tested.
Zhang Ying, director of the employment promotion department of the Ministry of Human Resources and Social Security, said the ministry will encourage companies to give extra subsidies to people who remain where they work during the holiday.
People who choose to work during the holiday should receive overtime payments, she said, adding that enterprises are also encouraged to stagger production during the holiday based on employees' willingness to work.
Stable supplies
Zhu Xiaoliang, director of the department of consumption promotion at the Ministry of Commerce, said that to guarantee stable supplies of necessities during the holiday, key wholesale markets, restaurants and supermarkets should stay open and extend operating hours.
E-commerce platforms and logistics companies should also ensure people can shop online and receive contact-free deliveries during the holiday, he said.
Guo Yuqiang, director of the child welfare division at the Ministry of Civil Affairs, said that given that many rural children and senior citizens are unable to reunite with family members who work in cities, local officials should regularly visit them, learn their needs and provide help in a timely fashion.
If parents in cities have difficulties finding others to look after their children, they can contact local authorities for help and they will designate a caregiver on their behalf, he said.