Saturday, January 2nd 2021, 8:39 am – A Texas low continues to bring snow to eastern Ontario, with effects lasting through Saturday morning.
The new year in southern Ontario was kicked off by a moisture-amplified Texas low, which delivered a messy mix of freezing rain, rain, snow and ice pellets to southern Ontario Friday night. While the precipitation has tapered off in the south, snow continues to fall in eastern areas Saturday morning, making for hazardous driving conditions. Snowfall warnings and weather advisories remain in place. Snow should taper off in the late morning. However, another dusting of snow is expected Sunday, as a stateside low will brush southern Ontario with a few centimetres. A closer look, below.
---
WEATHER HIGHLIGHTS:
Eastern Ontario remains all-snow through Saturday morning, tricky travel expected
U.S. system brushes southern Ontario with light snow Sunday
---
SATURDAY: SNOW PUSHES EAST, TRAVEL LIKELY TO BE IMPACTED
As the system pushes east, snow will linger in the eastern areas through most of Saturday morning.
In eastern Ontario, periods of heavy snow are expected during the next several hours before the snow eases and clears late this morning. Snowfall warnings and weather advisories are remain effect in the east. Travel will be impacted in these regions.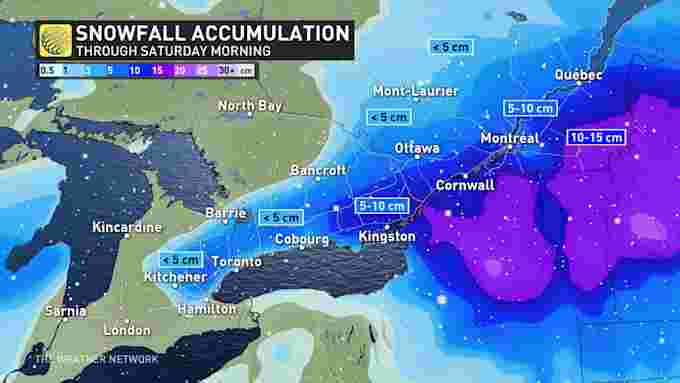 "Poor visibility in heavy snowfall. Poor road conditions due to quickly accumulating snow," Environment Canada says in the snowfall warning for the City of Ottawa.
An additional 5 cm is expected in the eastern sections.
BEYOND: MORE MESSY WEATHER BEFORE TEMPERATURES RECOVER
Beyond, the unsettled weather will continue Sunday, as a system trekking along the U.S. East Coast brush the southern end of the province. This low will be much less impactful, bringing just light snow as it remains south of the province.
Most areas impacted by it will see 3 cm or less. Areas north of the GTA including the Dundalk Highlands and most cottage country won't see any snow from the system because of the system's track.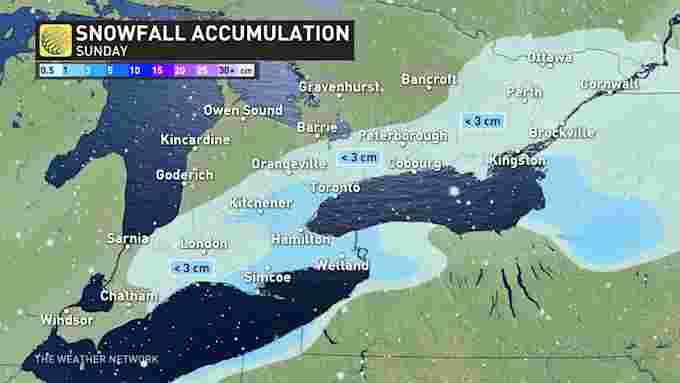 The good news is above seasonal temperatures are expected to return next week and into the following week. Also, at this point, we do not expect any major systems for early and mid-next week.
Thumbnail courtesy of Ignazia Vella Ignazia Vella, Picton, Ont.
Check back as we continue to monitor this incoming system.