Some travel companies like TUI have released summer holiday deals
As the darkest, most depressing month, it's no surprise that January is usually the most popular time of year to book a holiday.
Despite Scotland's lockdown restrictions, some airlines and travel companies, including Jet2 and TUI, have launched flights and package deals for the 2021 summer holiday season.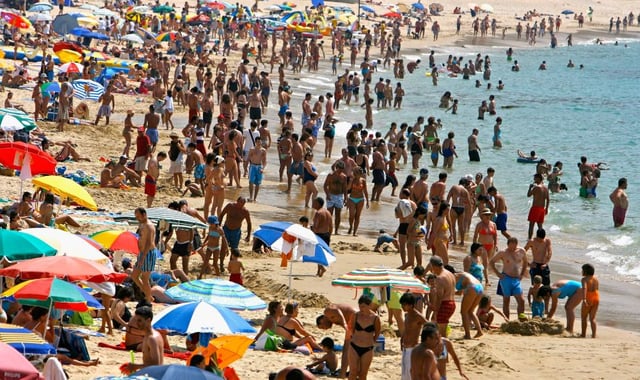 Many people are wary of booking holidays for summer after the chaos caused by cancellations last year (Getty Images)
We spoke to travel expert Nicky Kelvin, who offered some helpful advice for those planning to book a summer holiday soon.
Will it be safe to travel abroad in summer?
Scotland's new lockdown will last until at least the middle of February – but First Minister Nicola Sturgeon has not ruled out extending the restrictions for longer after they are reviewed on 2 February.
But the The Telegraph reported on Saturday 24 January that the UK Government had quietly extended lockdown laws up to 17 July – suggesting that there could still be some form of rules in place throughout the four nations until then.
Many people are also wary of booking holidays for summer time after the chaos caused by cancellations and quarantine rules last year.
A new international testing rule was recently introduced in the UK, too, with all passengers arriving back into the country required to show a negative Covid test.
People, including UK nationals, will need to be tested up to 72 hours before they travel by plane, train or ferry, and show a certificate.
It is also possible that other countries could ask for proof of a Covid vaccination before anyone can enter, and those planning to get away could also be hit by flight cancellations caused by the pandemic.
Speaking about summer holidays at the Downing Street press briefing on Monday 18 January, Health Secretary Matt Hancock seemed to suggest that UK staycations would be a better option than foreign holidays.
He said: "I'm going to Cornwall. And I have said before I think we're going to have a great British summer.
"But we've got a lot of work to do between now and then."
His comments came after Foreign Secretary Dominic Raab warned that it was "too early" for people to be looking at booking a holiday abroad.
Yet Nicky Kelvin, Director of Content at The Points Guys UK travel website and blog, said there is "no reason" why people shouldn't book a summer holiday now – but there are certain things to be careful about.
Should I book a summer holiday now?
First, Kelvin recommends that you should ensure your booking is fully cancellable and flexible – allowing you to change your date of travel or receive a refund if you need one.
"What we often advise our readers is that any booking you make should be fully refundable, or fully flexible," Kelvin says.
"Without penalty, you can change the date to a later time or you can cancel your holiday and get a refund. So, as long as you're booking a holiday that has those options, you are relatively safe.
"If the operator cancels the holiday, you're safe anyway, because they're obliged to give you a refund.
"But the problem is, if you book a holiday, the flight still goes. And for whatever reason – like government rules – you might not be allowed to travel, meaning you could be stuck unless you have these flexible tickets."
Kelvin also advises that you should ensure you have adequate holiday insurance that will cover you for as many eventualities as possible.
That could include cover for cancellations due to changing government Covid-19 rules and restrictions.
Covid-19 specific travel insurance is now a common option – but you should read the terms and conditions to check for any exceptions.
Finally, Kelvin says you should book a holiday with ATOL (Air Travel Organiser's Licence) protection and pay for the holiday by credit card in case the operators go under before you go.
He explains: "Whatever company that you're booking with, you want to ensure that it is ATOL protected.
"And, if for example you're booking directly with an airline, we would always recommend booking with a credit card so that you are protected by legislation.
"So, if the company went bust, you would still be able to recover your money."
Kelvin adds that he thinks booking for the summer "is safe" – but he is unsure of whether people will be able to get away on their holidays or not when the time comes.
Could I book a staycation?
When summer holidays were met with complications last year, many people decided to opt for a Scottish staycation instead.
The government eased restrictions to allow further travel beyond local areas, overnight stays and the reopening of the domestic tourism sector.
Whether rules will be eased in a similar way by summer 2021 is unclear – it depends on the vaccination progress and prevalence of the virus by then.
You are still able to book a UK holiday for summer time, but you should double check that you are able to change the date or receive a refund if you are not permitted to go.
Holidays are currently not permitted in Scotland or anywhere else in the UK during the lockdown, with tight travel bans in place.
Kelvin says: "Government advice right now is definitely against holidays. The new national lockdown advises against leisure travel, and you can only travel with specific exemptions.
"These exemptions are available to view on the Government website.
"Travelling away for a pure holiday is a no. There is also no exact date as to when that guidance will change."
Travel exemptions include for work, education, medical appointments, or caring obligations.