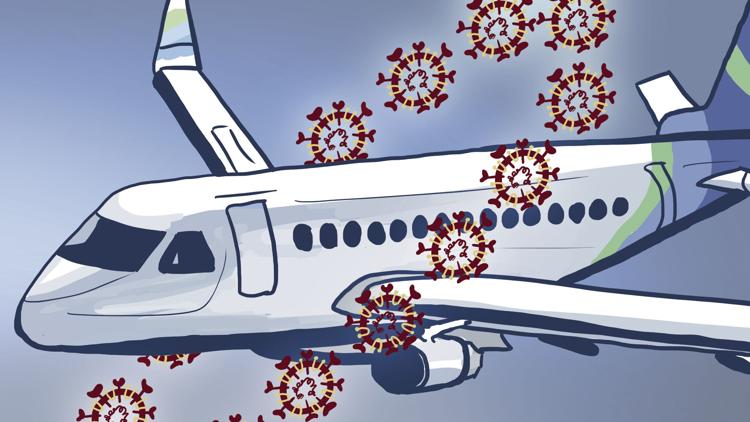 Underwear? Check. Toothbrush? Check. Incubating and invisible coronavirus building itself inside my body? Check.
Creating a list for winter break travel may help you remember what to pack in your suitcase, but it won't capture everything you could be bringing home. 
As some UW students prepare to return home for the upcoming holidays and seasonal breaks, university and public health leaders are urging students to reconsider in hopes of stopping the "season of giving" from spreading more than just holiday cheer.
"We are recommending to students, and really to everyone, that if you don't have to travel for the holiday breaks that you don't do so," vice president for student life Denzil Suite said. "We realize that that is a big sacrifice that we ask of folks, but it's such an important step in containing the outbreak."
University-wide messaging has been abundant in the weeks leading up to the winter months, echoing resounding calls from state and national officials to avoid all in-person gatherings with those from different households. 
This guidance comes as Washington state sees consistent record-breaking daily case counts — with an average of more than 2,000 cases a day — and right after Gov. Jay Inslee implemented new statewide restrictions set to last until at least Dec. 14. 
"I think not traveling home is probably the safest strategy for everybody involved," Dr. Geoffrey Gottlieb, environmental health & safety department medical director and University Advisory Committee on Communicable Diseases chairman, said.
Gottlieb said he has seen the U-District and campus become a "ghost town" during previous winter breaks, but expects to see more people around this winter as some students choose to forgo traveling. 
However, Gottlieb and Suite know that some students will still travel for the holidays, despite public health warnings. Acknowledging this truth contributed to embracing guidance surrounding safe travel, rather than ignoring it. 
The seemingly back-to-back nature of Thanksgiving and winter break raises concerns about coronavirus transmission. Students may be traveling between campus and home multiple times within a short period, leaving them potentially unable to quarantine properly, in addition to exposing themselves to multiple people from various households. 
Junior Maria Morris, an out-of-state student, canceled her Thanksgiving holiday plans for this very reason. 
"After talking to my parents, we decided it just wasn't the right decision just because I will probably go home for Christmas break, and that's in a few weeks," Morris said. "And traveling back and forth is not the healthiest thing to do."
Morris plans on getting tested for coronavirus before flying to stay with her parents in Michigan for winter break, a safety arrangement greatly encouraged by both Suite and Gottlieb.
The ideal situation for students is to get tested before leaving campus and immediately upon returning to campus, according to Suite.
While sophomore Emma Puaa isn't traveling far to see her family who lives in the Seattle area, she is also planning on getting tested before going home. 
As of right now, Puaa plans on going home for both Thanksgiving and winter break. Her grandparents typically visit from California, but that won't be happening this year. 
Another suggestion to possibly mitigate some of the risks is for students to remain at their destination after Thanksgiving, staying through the last few weeks of the fall quarter as well as winter break, Gottlieb said. 
Sophomore Jack Gregory said he is following that plan.
"I didn't want to cause any unnecessary stress just with the lack of testing," Gregory said, referencing the last-minute cancellation of tests by the Husky Coronavirus Testing Program. "Plus, it'd be a lot of extra travel costs for two more weeks of being here, and I don't really mind being at home either."
The Centers for Disease Control and Prevention (CDC) has released guidance surrounding holiday celebrations and small gatherings, as well as safe travel tips, both of which Gottlieb encourages students to read and follow.
"I think most of us know what we need to do to be safe and really just making sure we're vigilant about doing all those things we've been practicing for many months now," Gottlieb said.
While Gottlieb and Suite urge students to limit non-essential travel over the holidays, they know it's a big ask, especially as we enter the ninth month since Washington first went into lockdown. 
"I completely understand the need and the desire to be in community, to be around individuals whom you love," Suite said. "But the end result is that we will have some long-term benefits if we make some short-term sacrifices this year."
Reach contributing writer Hannah Sheil at wellness@dailyuw.com. Twitter: @thehannahsheil
Like what you're reading? Support high-quality student journalism by donating here.