MONTPELIER – State officials are now advising that Vermonters limit their gatherings and avoid holiday travel as cases of COVID-19 continue to climb in the Green Mountain State.
Specifically, new advice from the Scott administration is encouraging Vermonters to limit travel and confine gatherings to only ten people at a time, as new outbreaks of COVID-19 are linked through contact tracing to smaller social gatherings.
"As you've know, we've seen a rise in cases over the last two to three weeks," Gov. Phil Scott said during a news conference Friday, "and while our positivity rate remains low and we haven't approached any of the warning flags we've set, I'm still concerned."
Cases of COVID-19 have continued to rise in the Green Mountain State in recent weeks, spurred partially by an outbreak related to broom ball and hockey leagues in Montpelier that have since spilled into subsequent outbreaks around Vermont.
On Friday, health officials said the outbreak appeared to be quieting down after jumping to 116 cases of COVID-19 overall, making the Montpelier-sourced outbreak the largest since COVID-19 cases first surged in Vermont this spring.
Amid both what health officials are calling the "Ice Sports Teams Outbreak" and social gatherings being moved indoors due to the colder weather, weekly caseloads of COVID-19 reported by Vermont's health department have grown, topping out at 141 cases two weeks ago before falling to 132 cases last week.
The percentage of positive tests for COVID-19 compared to testing overall likewise grew, though, at just above half of a percent, Vermont's positivity rate remains far below both the state's "guardrail" and the positivity rates reported elsewhere in New England.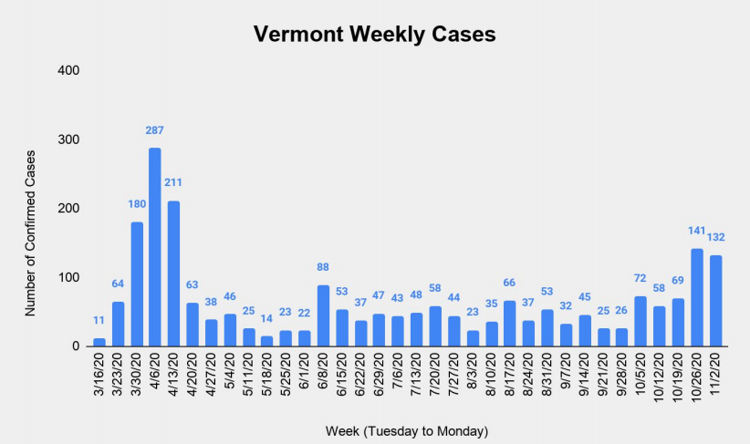 Another "guardrail" related to the amount of Vermonters arriving at hospitals with flu-like and COVID-19-like symptoms appeared relatively steady, though health officials anticipated it would likely rise with the arrival of flu season in the coming weeks.
"The data and the trends of the past few weeks are sending a clear message, that we need to up our game in order to protect ourselves and our communities and prevent widespread infections," Vermont's health commissioner, Dr. Mark Levine, said Friday.
Several state officials addressed Vermonters from a podium Friday and urged Vermonters to avoid large gatherings and travel during Thanksgiving and the holiday season.
"I feel like taking such action would not be in the best interest of our students," Vermont's education secretary Dan French said, advising that, while outbreaks appeared limited in Vermont's schools, their ability to remain open was contingent on limited spread of COVID-19 in the wider community.
"Our conditions for the virus remain positive in Vermont and we should endeavor to keep our schools open for in-person instruction as best we can," French said. "This is what is best for our kids."
"We can't really control the nature of the virus, so it's time to focus right now on the things we can control," Levine said, adding later that he was "strongly urging people to lay low this season and forego nonessential travel."
"We strongly advise that any social gatherings you choose to have be with less than 10 people and with a very limited number of trusted households," Levine said, "and this applies to all gatherings, including just getting together with friends socially at home, or on campus, or around town."
"Now is the time to keep our social circles small," he added.
Levine said the state's advice came after contact tracing steered by Vermont's health department linked outbreaks in Vermont – including many of those connected to the Montpelier outbreak – to smaller social gatherings rather than major community events or businesses.
Among the vehicles for outbreaks, according to Levine, were more limited events like baby showers, barbecues and birthday parties, as well as holiday gatherings and even sleepovers.
"We're seeing cases turn into clusters and outbreaks due to transmission at private gatherings," Scott said, "meaning social events with family and friends at their home or at neighborhood barbecues, more than at other venues like restaurants, that have more rigid health and safety protocols."
Updated public health advice from the Scott administration comes as cases nationally likewise begin to surge in most parts of the country.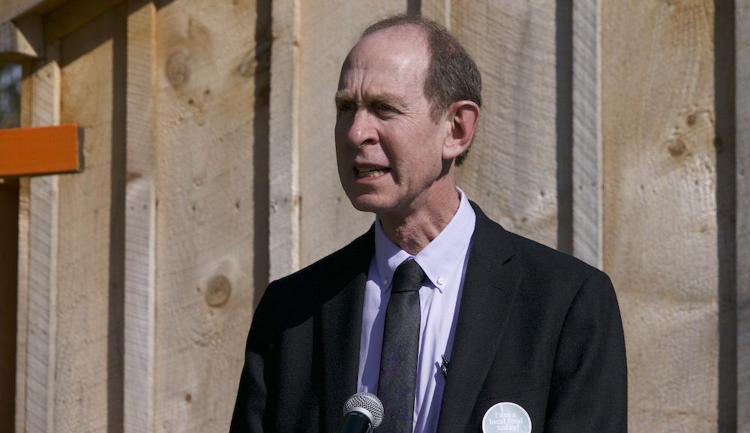 Health officials reported more than 120,000 new cases of COVID-19 in the U.S. on Thursday, a record number of cases appearing poised to climb in the coming weeks as colder weather brings more people inside, where COVID-19 is believed to spread more easily.
On Vermont's travel map, a snapshot of northeastern states within a day's drive of Vermont, all but a handful of counties, including all of those on Vermont's borders, saw caseloads climb above the state's threshold for travel into Vermont without a quarantine.
Within the U.S., more than 237,000 Americans have died due to complications of COVID-19, according to reporting from the John Hopkins University.
More than 2,300 people have tested positive for the virus causing COVID-19 in Vermont since the first cases of COVID-19 were identified in the Green Mountain State in March.
The state reported its first death related to COVID-19 in months this weekend, bringing Vermont's total number of deaths connected to COVID-19 to 59.
On Friday, Scott said his administration's new public health advice was not a mandate, but was "strongly advised" by both his administration and public health officials.
"While these are not yet being issued as mandates, we strongly advise Vermonters to limit gatherings in general," Scott said, "and if you host them, be smart and take precautions."